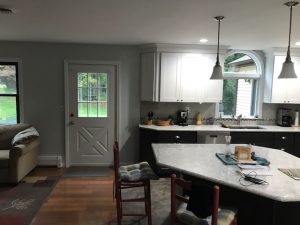 We are a general construction company located in Rockland County NY. We have been licensed and insured doing business in Rockland and surrounding areas since 1987.
Our goal is to deliver a quality product for a reasonable rate. We are a diversified company, engendering a wide compliment of skilled tradesmen and craftsmen. We offer design build services or work from a privately hired architects blueprint. Some of the services we provide are:
Baths
Decks
Kitchens
Doors/windows
Siding
Additions
Renovations
Structural
Enclosures
Porches
What our clients are saying about us:
We have worked with Frank DeToma on a couple of projects in our home–a large addition in 2008 and a new front Trex stoop in 2020. Both have turned out great! He always welcomes our calls and questions–even after our projects are completed! The work was done professionally, and we have received many compliments.
Maureen
Homeowner, Rockland County NY